Meeting Alex Sánchez, Paralympic triathlete.
The adversities which life puts in your way don´t matter while you are able to maintain the enthusiasm and motivation to move forward
Of all the athletes I have been lucky to meet, without a doubt Álex is one of the ones who has affected me the most. Not for his performance or sports achievements (of which there are many). But for his way of facing life. In such a complex world so full of "egos" as sport, where people are valued for what they get more than for who they are. Alex teaches us the opposite: The importance of assessing effort and the path towards your goals as a solution and/or point of support for any problem which life may throw at you.


This interview allowed me to meet a person with an admirable capacity for overcoming and learning what is really important, both in life and in sport. Thanks Alex.


Pere Lladó.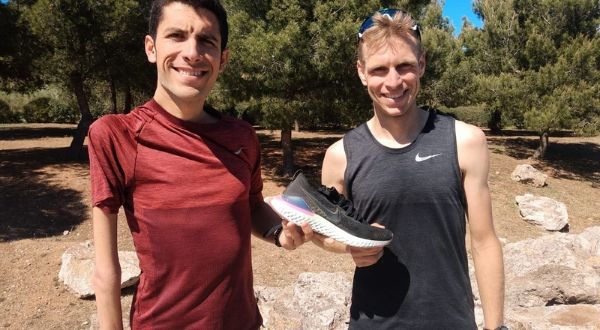 Introduction:


I am Alex Sanchez Palomero, a Paralympic athlete; 15 years ago I had a motorcycle accident in which I lost feeling in my right arm. Thanks to swimming, a sport which I have been practicing since I was a child, I had my foothold to overcome such a difficult personal situation: The values taught by sport served as a foothold for me to get up and move on, turning my situation around.


Now sport is the main driver of my life; first I was a professional swimmer getting great results such as in my two participations in the Paralympics (Beijing and London), achieving an Olympic bronze in the 100m breaststroke in Beijing. In 2014 I decided to change sports and started competing in triathlon, my current sport. I couldn't go to Rio 2016 because my category wasn't included in the Paralympic Games, but now a new option opens up with Tokyo 2020, where the category is included and I want to try to qualify. Right now I'm putting all my effort and my hopes into returning to other Paralympic Games in a different discipline.


A lifetime dedicated to sports and therefore I feel privileged, because I think I am an athlete without adjectives who simply enjoys striving every day to show the world that Paralympic athletes are equally capable and have nothing to envy about other athletes.


Objectives


The main objective is Tokyo 2020. Just being able to qualify for the classification is already a dream come true, since up to a year ago my category wasn't even considered a Paralympic sport.


I am currently second in the World Ranking and this gives me many opportunities to get a place in the qualifying competitions, which are open from 28th June 2019 up to the same day in 2020. Throughout this year we have several competitions where we will have to fight for qualification. The three best results obtained in these competitions will be the ones which give us the score for qualifying for the Games. The nine triathletes with the best score in that ranking will obtain a place. The two most important dates of this period will be the World Championship (1st September) and the European Championship (15th September), as they will have a higher weighting than the other trials. The rest of the points will be distributed in the World Series, where I will participate on 28th June in Montreal (Canada) and World Cups, in which we will only play in Banyoles on 7th September.


The objective is to try to leave the "closed" classification this year in order to focus on Tokyo by 2020. Therefore, the calendar will be in this order of priority.


Triathlon World Summit: Lausanne, Switzerland, 1st September


European Triathlon Summit: Valencia, September 15


Montreal World Series, 28th June


Banyoles World Cup (7th September).


Methodology


My workouts are 100% based on the guidelines of my coach, Ivan Muñoz. I share my sessions with the Mallorcatraining training group (led by Ivan himself) and compete with the colours of the Viwo Hotels Sport Team Club.


I put my faith in what Ivan tells me. A coach with a track record and ample knowledge which has demonstrated itself over many years. Apart from being my coach, he is also a great friend and has the virtue of knowing how to listen and understand my needs in any situation.


We train every day, from Monday to Sunday. We rest one day every five or six weeks (approximately). Sessions are usually distributed as follows:


Swimming: 5 or 6 days per week.


Cycling: 4 days per week.


Running: 4 days per week.


Strength: 2 days per week.


Respect for myself day to day, I consider myself a person who knows how to take good care of my health. I don't follow an excessively strict diet but I do always try my best to give my body what it needs and not overuse things which are harmful to it, but I can always make an exception from time to time.


Material


The main adaptation to my disability is on my bicycle. Where I carry all the shift and brake controls in one hand. My bicycle brand is BH and my helmet and glasses are SPIUK.


In swimming I also have to adapt, since I have to wear my left sleeve cut in order to be able to take off the neoprene without help. The right arm was hooked inside the neoprene itself. I use ORCA brand wetsuits.


In terms of nutrition I have the help of the 226ers brand for hydration and sports supplementation.


Finally, in the running race and since 2019, I have the help of Runnerinn to acquire Nike material. I basically use two models: Epic React to train and Vaporfly 4% to compete.


Message


I feel that I am privileged to live the sport which is my passion. I have never done anything extraordinary, I have simply tried to always lead a normal life and this is what I would highlight most: Being able to normalise a very difficult situation such as my accident and its consequences.


If there is something I want to say to someone who is in a difficult situation, it is that the adversities which life puts in your way don't matter while you are able to maintain the enthusiasm and motivation to move forward. Giving yourself challenges which force you to strive will make you grow as a person and this will help you to be able to get these situations reversed. Whether professional, sports or personal; I am very clear that in this life the most important thing is to be happy and this is what must prevail above all. Once you discover what makes you happy, just don't let it escape and squeeze it to the fullest. I did it with sport and it is the best thing which has happened to me in my life.


This is basically what I try to convey in the lectures I give: that people have dreams and goals to strive for. That this implies joys and learning. Nothing is achieved quickly, everything worthwhile requires a lot of work and this work will be what will really make you grow as a person. All with constant joy and sense of humour, since I believe that life can already be hard enough sometimes and it is important to enjoy the good times.