On the way to the athletics tracks of the GEIEG, Girona. A club with history in the city and in Catalonia.
The Saucony team prepares the shoes and T-shirts for all participants. As they arrive, they are going to confirm their attendance and they are automatically given the shoes and the technical t-shirt as a gift.


We are all ready to listen to the Saucony product technicians, where they tell us about the features and benefits, and once the explanation is finished, they tell us how the afternoon will work.


A 20 minute warm up, and then we put the Endorphin to the test with a 2km test at race pace, and a cool down to relax the legs.


So once the explanation is done, we'll get ready for the team photo and let's go running!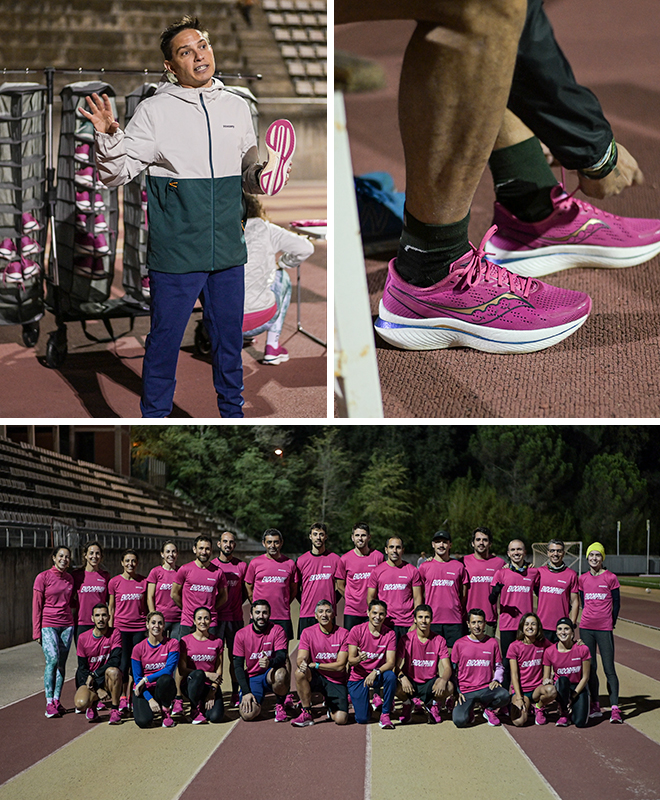 The 20-minute warm-up is over, Team Saucony and Runnerinn put the participants on the starting line: the whistle blows! let's go for those 2 kilometres.


5 laps on the running track were done in 5 minutes 57 seconds for a young athlete, and 7 minutes for the first woman to finish the 2 kilometres! Her first words were: "How are the shoes coming along!


While all the athletes are arriving, we have provided refreshments for everyone.


The comments are very good about the shoes, they were heard to say: I recently did a 2 km test, and with the time now, I've gone down 20 seconds!


With the excitement of the participants we put an end to the saucony endorphin speed 3 test afternoon, thanking once again the Saucony team and all the participants.