Saucony offers us with its Endorphin range the widest range of carbon soles that we can find in any brand. 3 different models for each type of runner:


Endorphin Speed 2: The most versatile. With good cushioning for long distance running and with the Pebax system (carbon plate) to gain that % of efficiency that allows us to run faster and delay muscle fatigue.


Endorphin PRO 2: The most "racer" model. Less cushioning than the speed but equally valid for a light runner who wants to run long distances. A shoe for sub 35' 10k / 1h18' 21k runners.


Endorphin SHIFT: The most cushioned model from Saucony. The same technology of its sisters is added to that extra cushioning that makes them ideal for heavier runners looking to run long distances without getting injured.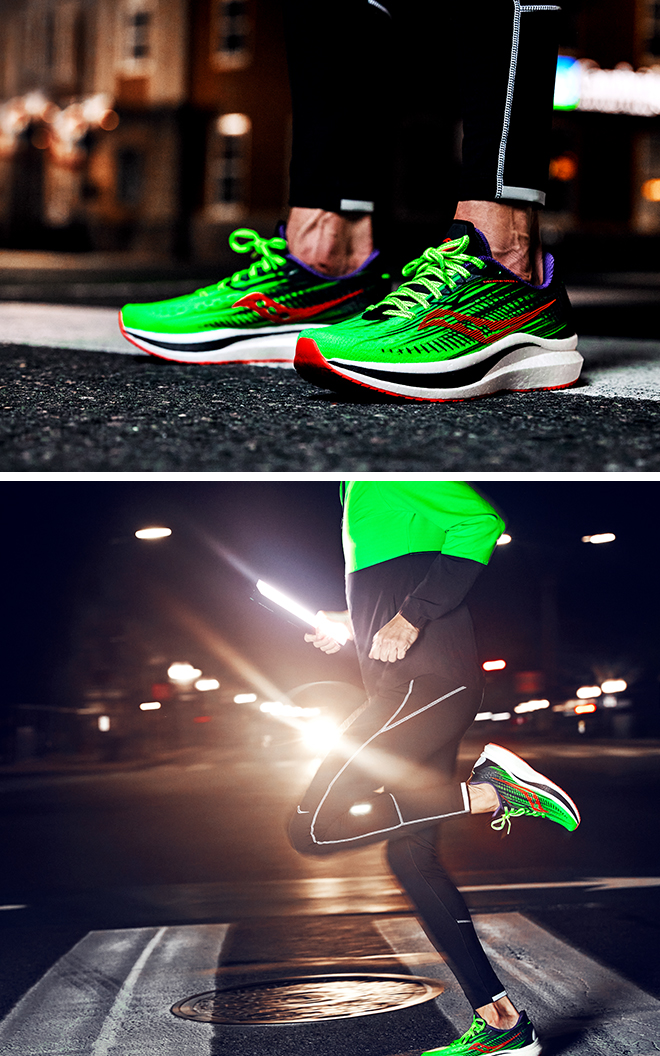 Endorphin Speed 2 Test


The Endorphin Speed 2 has been thoroughly tested and we have drawn the following conclusions:


It is a shoe that "asks" for speed. It is not comfortable to ride at easy paces because the inertia caused by the carbon plate makes you have to "brake".
More versatile in varied terrains than it seems. While no flying sole is perfect for running on anything but smooth asphalt, I was surprised by the grip and stability of the Endorphin on dirt and grass. This is a great advantage compared to its competitors as it allows you to use them as training shoes in your daily runs avoiding asphalt.
Cushioning: A surprise for a racing shoe with a carbon outsole. Endorphin speed 2 doesn't feel "hard" at all but on the contrary. Saucony has achieved a very similar feeling to the Kinvara for a racing shoe.
Muscle fatigue: I don't think I can judge well this aspect in the sense that maybe I would have to use them in a half or marathon to evaluate them properly. However, I can say that the sensations after long runs are of finishing much "fresher". Simply the more efficient the stride (caused by the Pebax plate), the less muscular wear. After coming out of a serious hip injury, they will undoubtedly be a good solution to minimise the impact and avoid any relapse.


Who is it for?


It is important to explain that Endorphin is NOT a shoe for everyone. Moreover, if you are not prepared to use them, they can be counterproductive (harmful). Before making the leap to carbon, you should have a good experience in middle and long distance races, make sure that your technique is good (or at least not harmful) and if not, work to correct it. Carbon accelerates your stride and if your stride is not good, it causes an increase in muscle impact that will lead to common injuries such as fasciitis, tendinitis, periostitis, webbing...


If you meet the above requirements and want to try an alternative to the 2 running giants at a lower cost and with proven efficiency, Endorphin is the shoe for you.