A thermos with ThempShield technology that maintains the interior temperature of cold liquids for up to 24 hours and hot ones for up to 6 hours. The secret of its high thermal capacity is the thermos´s double vacuum insulation lining. 
It is a solid and shock-resistant bottle, free of BPA and phthalates. The latter, is an important aspect to assess when buying a bottle or thermos, because a poor choice of materials can be harmful to our health. On the other hand, it is made with stainless 18/8 steel that does not transfer any flavors to the liquid we wish to keep inside.


The outer dimensions are 19 x 7.3 cm and it weighs hardly anything. A practical, light and functional design makes using it daily easily, whether at work, for sports or in any other activity where we need our drink to stay at the same temperature. This versatility is one of its virtues, complemented by a wide range of compatible plugs that we can choose depending on the use.


For sports, the model including a mouthpiece is much better. Whereas, for the daily office grind, the Hydro Flip lid is more practical, and ideal for pouring the liquid into a cup. The Wide mouth flex cap instead contains a handle so it easy to carry and always have it close by.


This product, apart from having a wide range of accessories, has a lifetime guarantee.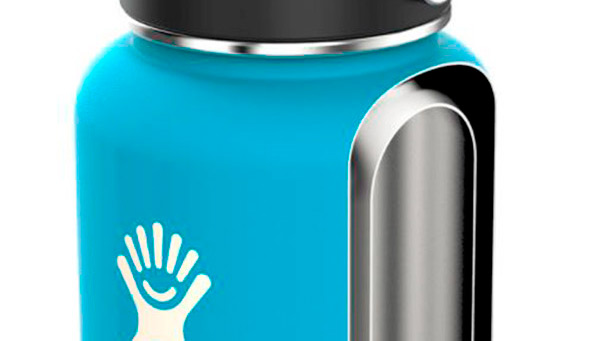 Conclusions
Hydro Flask is always on my office desk. Sometimes with coffee or tea, and usually a mixture of herbs with lemon that I make every day on leaving the house. When I finish the hot liquid, I fill the thermos with cold water from the drinking fountain we have. In this way, I can always stay well hydrated.


Keep in mind that the thermos has great thermal power and when touching the exterior of the thermos, you can't feel the temperature of the internal content. It is good to bear this in mind, as one day I burned my tongue, 3 hours after pouring hot liquid inside. Since then, I pour the hot contents into a cup before drinking it.


During the car trips it is also very useful because it has a easy to open system, which is easy to use whilst I'm driving.


In summer, there is nothing more pleasant than taking cold water from a Pyrenean river on a hot sunny day and keeping it at the initial temperature for hours before returning for more water. Also in cold winter days, when on my mountain skiing day trips, I can keep my coffee or tea hot.


Advantages:
-Very light.
-Small size; takes up little space.
-Ergonomic and beautiful design.
-Holds the temperature; either cold or hot.
-No transfer of flavours.
-No materials that are harmful to health or contain endocrine disrupters.
-It has a seal on the cap for a hermetic closure.


Drawbacks:
It can be small when used for water and carrying out intense activities for a long time. Even though you could find other larger versions.
For trips lasting several days, the liquid will lose the initial thermal properties after about 24 hours.
Take care when opening and closing the thermos, because if you are climbing or mountaineering you could lose the plug or the seal.


Sports for which I recommend the product:
???????-Extreme outdoor sports.
-Hiking.
-Alpine sports.
-Snow sports.
-For going to the gym or at work.