About six months ago, I strapped the Vantage V to my wrist for the first time. As I have said, I am not an athlete, so I will not make an ultra-technical review.
Okay go ahead and say it, I'm not really an athlete.


I do sport, it's true, but light years (or miles and miles) from what would qualify as a sportsman these days. I just try to do as much sport as I possibly can. Yes, as a good amateur and one who is in a full-on mid-life crisis, one likes to be well equipped! But finally, and above all, I like to have information on what I'm doing, whether it be for a personal analysis, or to share. And a sports watch is perfect for that, actually almost mandatory.


About six months ago, I strapped the Vantage V to my wrist for the first time. As I have said, I am not an athlete, so I will not make an ultra-technical review, nor a very detailed look at settings options and usage. There are very good people who have already beaten me to it, with reviews that are well worth a look. I will limit myself to telling you my feelings and conclusions as a very basic user.


First of all, on a strictly aesthetic level, it's a watch that looks beautiful. Unlike its main competitors, it has fine lines, nothing abrupt, and is very discreet. If you're looking for attention, this isn't the watch for you. If you're looking for a watch you can take to a triathlon or a wedding, then the Polar is what you want.


I'm not going to do an unboxing, the watch comes with everything it should (charger, instructions, etc.). In fact, in that regard I confess that when I opened it a little, I could look at nothing but the watch itself and opened it right away, I think like most people would.


When we turn it on and start playing with the various screens, we immediately see that the Vantage V will always be one step ahead of our needs, at least in my case. This watch is full of information, customisation options and features.


It's a very easy watch to set up (either through the mobile app or computer) and in 10 -15 minutes we can have it fully operational, giving us the feeling that the screens are now to our personal taste.


In no time at all we have our profile set up (it asks us our normal weight, height and age, as well as preferences, both in sports and objectives), our viewing preferences and our sports are now ready.


From there, and I guess with some algorithms that escape my understanding, the watch is in charge of keeping you up to date, either with a warning you that are a little off your desired pace. It will also do so if you are training more than normal or at "too high" a pace. I love that the watch congratulates me when I train well and often, and I appreciate that it gives me a nudge when I'm having one of those weeks when I don't feel like it or can't give it my all. The Vantage V has many configurable sports. Logically some have a spectacular level of precision (swimming, running, cycling, etc.), others have fewer exquisite results, but still more than enough (from basketball to kayaking to ballet and all kinds of indoor training). Nor do I expect a watch to tell me how many shots I've taken in a football match or how many rebounds I've caught playing basketball, that would be something else.


The battery is extremely surprising. The watch lasts about 40 hours in GPS mode, but if we don't use it in that mode, it can stretch to a whole week and a couple of 40-60-minute daily workouts with no problem. It's one of the strong points of this watch. Out of all its tricks and abilities, the pulse meter is a standout. I think we could say we're looking at the best wrist pulse meter on the market. The reliability and precision of the 9 sensors it incorporates is impressive. I've been using pulse meters for years (having a slight heart defect and being a hypochondriac lead you to it) and the Vantage V is the best I have ever had, in terms of ease and reliability.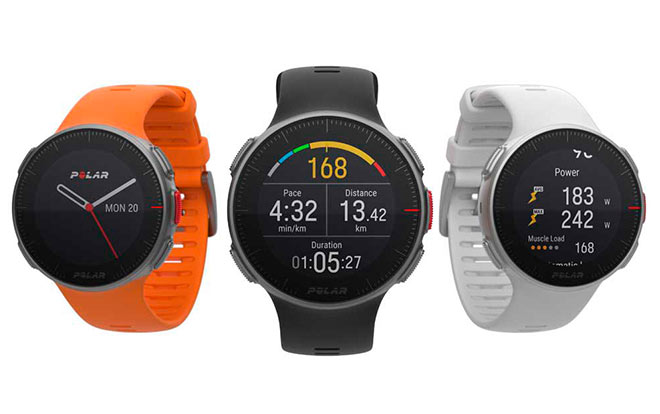 If you are a little "geekier" when it comes to the information you crave when doing sports, you can play around until you get lost in the data that the watch collects and compiles. Personally, I've stuck to those that are important to me (average frequency, maximum, red zones). As for physical data beyond pulse, the Vantage V has everything you would ask of this type of watch and much more, even providing power with no need for external devices.


The GPS is more than adequate, although it is true that some of its competitors will be able to boast more precision and ease of use.


If you are a semi-professional or professional athlete, all that information flow will certainly be useful for you to analyse your training and your levels of improvement, recovery, etc. Seriously, there is information here that would bore a sports medicine specialist. Through Training Load Pro you can do a master's degree in your own training and sessions. The information is complete.


In my case, and I repeat that I am a really a Sunday sportsman, I will not deceive you, for the first few days I looked at it as a curiosity. But after a few months I have kept using what most interests me.


It is true that this watch is way above my level as a sportsman, but at the end of the day it is also what I wanted. It's a watch I've never manage to catch out and no matter how much I've improved or increased my performance; it always gives me an answer.


That's why you invest money in one of these devices, which is no small amount.


In short, it's a large multi-sport watch (and really honours the name) that's suitable for the wrist of both a professional who squeezes the most out of it in every aspect, as much as for an absolute amateur who only wants the details from his Sunday morning exploits. The investment is not small, but from the very first moment you'll know that you're wearing one of the best multi-sport watches available today. Quality, functionality, information, precision, infinite data ... and it also tells the time.


What more can you ask of a watch?