The Nike Terra Kiger 5 performs excellently on all types of surfaces, including wet terrain.
After a long wait and hearing rumours about the arrival of the new Nike Terra Kiger 5, which is the lightest trail model with the least drop and fastest speed from the American brand, it has now arrived.
You only need to look at this new version to see that it has been completely renovated (about time too!) making it a much more up-to-date trainer than previous versions.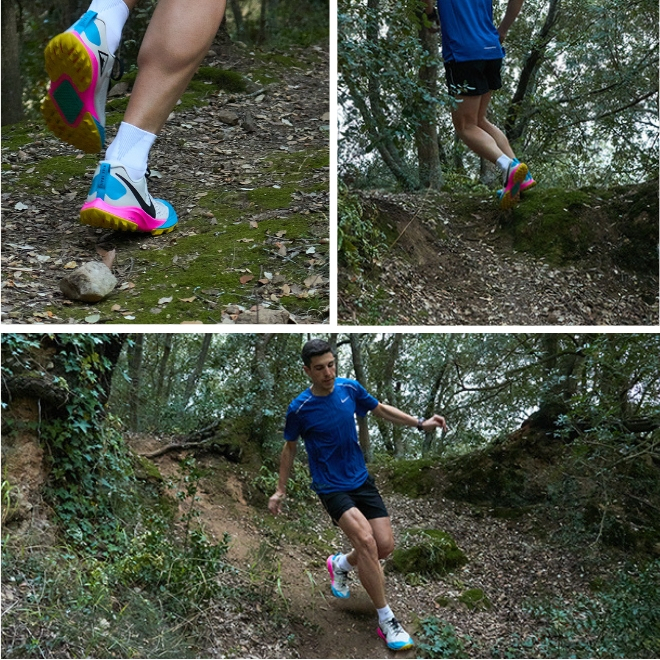 After being a regular user of Terra Kiger for some years and sharing kilometres with people who use the same model, what was lacking was a new sole, as in previous models the grip was not quite what was required, the heels would come off and easily deteriorate on rocky terrain. It has been updated with more aggressive lugs and quite a soft touch with a rounded end to improve foot entry (whether you enter from the heel or descend into it). The materials used are High Abrasion Rubber and Sticky Rubber which combine resistance and durability with adhesion.


During this week I have been able to test them on different terrains (Puigmal, Matagalls, Montserrat, Gavarres and even on the odd asphalt track), and I can confirm that they perform excellently on all surfaces, even on wet terrain.
With reference to the Nike Terra Kiger 5 mid-sole, it reminds me a lot of the new Nike Pegasus with the tapered finish. It has a softer cushioning thanks to the use of React foam and the Zoom Air unit used in the heel. The profile is 20mm/16mm, which gives a drop of 4mm.
On the Upper, you will also find significant changes, which completely do away with Flywire and substitute it with one of the thermosealers which function well within the new system of laces, and the most significant in my opinion, which hits the mark is the return of the tongue joined to the upper which provides more support and avoids the entry of sand, stones…


In my opinion, it is one of the best options for trail running of up to 40km and for people weighing <75kg.