Triathlete Victor Arroyo, reigning Spanish long distance champion at the Tradeinn International Triathlon 140.6inn explains his experience with the new Polar Pacer Pro watch.
Discover the new Polar Pacer Pro watch announced by the Finnish brand just a few weeks ago from the point of view of coach and triathlete Victor Arroyo.


Polar never ceases to surprise in recent years with the launch of new models segmented for different types of athletes and levels, also offering different ranges depending on the level of requirements and demands of the athlete.


WHO HAS POLAR PACER PRO BEEN DESIGNED FOR?


PACER PRO is suitable for any athlete: runners, triathletes, cyclists... A perfect quality/price option to accompany you on a daily basis and help you achieve your goals.


Pacer Pro is a very versatile model, which includes the functionalities needed by an athlete who wants to improve their performance, record and analyse training and recovery data, while offering a comfortable, elegant, lightweight design and exceptional value for money.


KEY FEATURES OF POLAR PACER PRO:


1. Comfort and premium materials: in addition to feeling very light on the wrist and comfortable even with neoprene, we can visualize the data very easily, and is that even in bright light, thanks to the new screen, the data is read very well.


2. Accuracy in wrist heart rate and GPS: the new sensor is very comfortable and accurate both in and out of the water (both in the pool and in open water). Distance data is very accurate, the watch does not lose GPS signal in areas where other devices may give unrealistic pace data or lose signal.


3. Power measurement: the power record on the wrist serves as a reference and helps us to control the workloads regardless of the terrain.


4. Route tracking and turn-by-turn directions: we have the possibility to import routes in GPX or TCX format and receive turn-by-turn directions directly on the watch.


5. Running and cycling performance tests: it offers data to customise your power, heart rate and speed zones correctly. Also, in cycling it will show you the functional threshold power (FTP) (requires a compatible power meter).


6. Fuelwise and Energy Sources: allows you to monitor your energy expenditure and divide your energy consumption into carbohydrates, fats and proteins from your workouts. You can also set hydration and fueling reminders, which is very useful in endurance sports to maintain energy levels.


7. Data: In addition to the essential data (distance, speed), the Pacer Pro automatically records each ascent and descent, detailing performance on each of the route's inclines.


8. Sleep and night recovery log: An automatic log helps you understand how much sleep you've had and, more importantly, whether you've recovered properly during the night.


9. Battery: Long battery life, 35 hours at full power and 100 hours in power saving mode.


10. Smartwatch functions: mobile notifications even while training, music and weather controls.


11. Swimming metrics and triathlon mode: Its shape and weight make it perfect for swimming without neoprene, it records all the necessary data: rhythms, times, distance, heart rate and even SWOLF, which is an indicator of swimming efficiency. Making transitions in triathlon mode is very simple and all the data is recorded and reflected on the screen.


BUT PACER PRO IS MUCH MORE...


Data syncs quickly and conveniently to the Polar Flow app, automatically or manually by pressing a button on your watch. Once in the app you can view all your data and even link your profile to third party apps (Strava, Training Peaks, Komoot, Nike+) and transfer your workouts or share them with friends or your coach. It also allows you to easily export the file of each session so you can see every single piece of data in detail and not miss anything.


In the following example you can see some of the data provided by the platform (heart rate, rhythm, power, cadence, altitude) during a competition, in this case the running section of the TINN International Triathlon 140.6: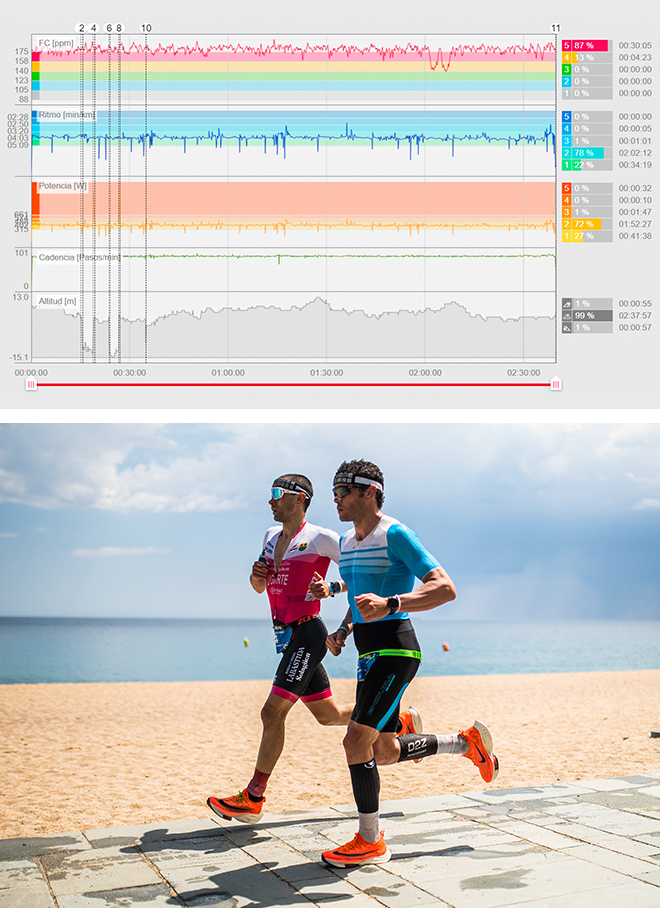 FINAL CONCLUSIONS


The watch amply meets all the demands of today's triathletes. It is highly recommended whether you are just starting out in the world of triathlon data, or if you are an advanced triathlete who likes to record everything.


You can record heart rate data directly using an optical sensor or with the H10, H9 or Verity Sense heart rate strap.


Nowadays we coaches are data analysts and the more data an athlete records the better we can work with them to achieve success, this helps us a lot to make decisions during the season and Polar Pacer Pro helps us to collect in one device everything we need to make us better triathletes.


OTHER INTERESTING FACTS:


Polar Pacer Pro: Size: 45x45x11,5 mm | Weight: 41 g with strap, 23 g without strap | WR 50m


Polar Pacer: Size: 45x45x11,5 mm | Weight: 40 g with strap, 23 g without strap | WR 50m.


*Pacer Series are compatible with Polar H10, H9 and Verity Sense heart rate sensors, third-party cycling and running cadence and power sensors.