This shoe incorporates the new FRESH FOAM X cushioning system from New Balance, which provides great stability throughout which provides great stability throughout the entire stride, especially in the midfoot area. midfoot area.
The FRESH FOAM X - VONGO 5 are designed for daily use in training, especially for longer training sessions. They can be used by medium weight athletes and thanks to their great absorption and stability they can also be used by heavier athletes without any problem. They fit the foot very well and leave plenty of room in the metatarsal area, which allows for a more natural separation and greater comfort in this area.


SOLE


It incorporates the FRESH FOAM X system along the entire midsole of the shoe, which will give us great stability and comfort in training. Although in the internal area it has a greater thickness to give more stability to overpronators. This system allows a great shock absorption and even after many kilometres, it allows us to continue with that feeling of lightness in the supports that we need so much in the longest runs. The outsole also provides great traction, as it allows for a longer duration in this area. The higher contact area has more density which allows for less wear and tear on the sole. This shoe is thought for the longest runs of the week or even for heavier people who could use them in a marathon.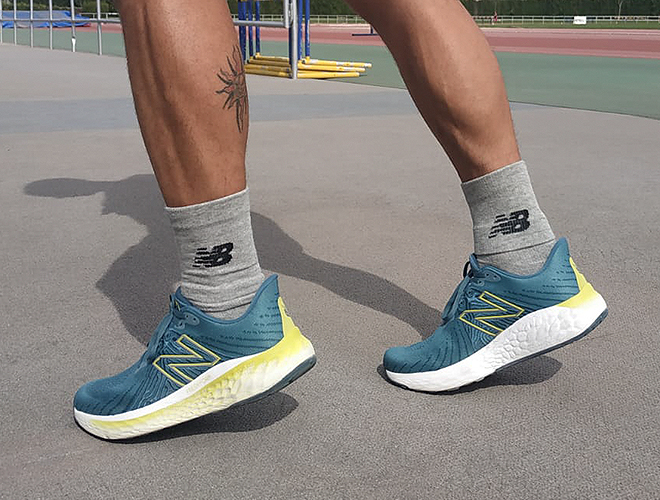 UPPER


It uses a HYPOKNIT mesh throughout the shoe that provides us with a great breathability and in addition to being a little elastic it offers us a great comfort that adapts to the perfection to our foot. The heel and tongue areas are padded, providing a greater sensation of comfort, which will be very useful as the kilometres go by. The lacing system makes them adapt and fix perfectly to the instep and they are very comfortable during training sessions.


CONCLUSIONS


Very comfortable shoe, which allows us to do a great number of kilometres due to its stability and comfort, and which provides a great grip both inside the shoe and on asphalt, favourite terrain for this shoe.


Translated with www.DeepL.com/Translator (free version)