Salomon Sonic, three are the models that make up this collection: Confidence, Balance and Accelerate. Today we present the Salomon Sonic 3 Accelerate, with 220gr in a 41 ⅓ they are the lightest and most dynamic of the collection.
INTENTIONS AND OBJECTIVES: As I have already mentioned, the Sonic 3 Accelerate is committed to offering agility, lightness and comfort. With a weight of 220 grams in a 41 ⅓ drop of 6mm and a biomechanics that helps us to run on metatarsals, accelerate and pick up pace in our series, it will not be a problem. Mixed shoes, both for training and competition. To specify a little more, I think they are shoes, with which I would dare to run up to 21km. And the segmental ones for runners up to 75kg.


DISSECTION AND ANALYSIS:


SOLE: Like all Salomon brand models, these Sonic 3 Accelerate have a contagrip sole, in this case Contagrip Blown Rubber. The compound that will offer us more grip and durability is located in the heel area and from the middle foot onwards. In the central axis of the sole is the Geometric Decoupling, to guarantee a transition from the tread forward. MID-SOLE: 6mm drop, profile of 24mm at the back and 18mm at the front. With Opti-Vibe compound in the back, which will help us to reduce vibrations and increase comfort. This is effective for people who enter the heel strike, or in the very steep descents. For those who enter the metatarsal footprint, as these shoes encourage, the opti-vibe will be less palpable. The cushioning is somewhat hard, runners who are used to softer compounds, it may take them a bit to get used to the sensations of these Sonic 3 Accelerate.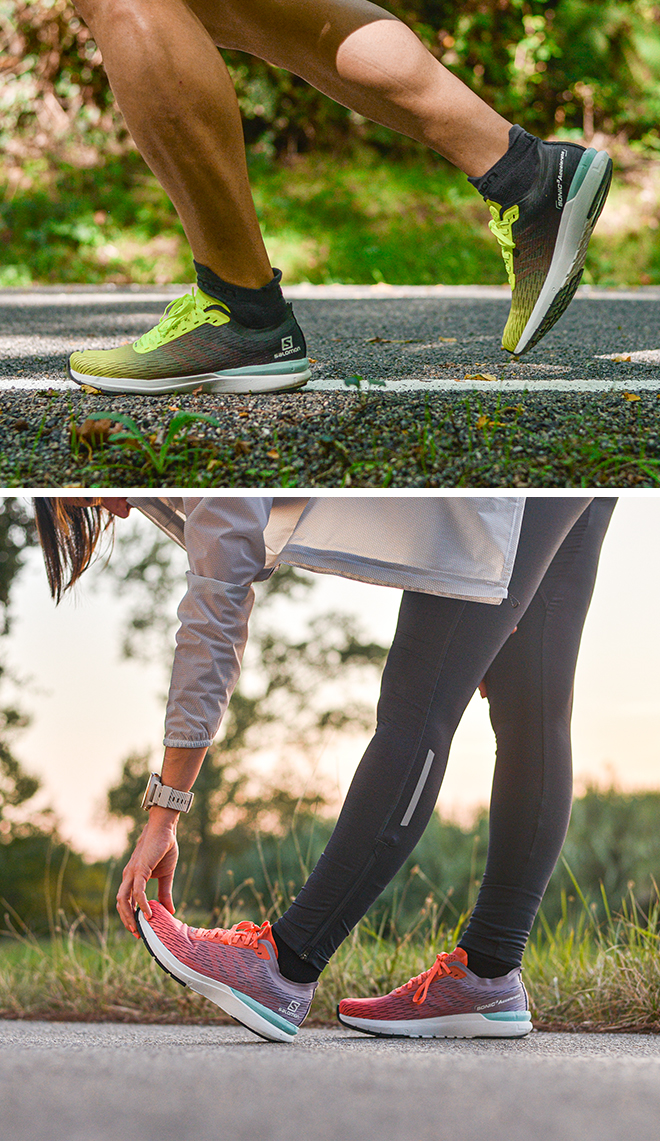 UPPER: Upper with a very breathable, lightweight mesh, with side heat seals located on the inside. With an Ortholite impression insole, something padded to offer us more comfort and adaptability to our feet. The adjustment on the back of the foot comes through inner padding, which adjusts to the foot from the lateral area, and leaving the Achilles tendon area completely free of pressure. This fit is complemented by the Ortholite impression insole and the sensifit system. The neck area gives complete freedom, without seams, without friction. The first impression was of a light upper but at the same time somewhat rigid, the padding does not adapt to the foot directly, they do so little by little. Or at least this has been my experience.


CONCLUSIONS: Lightweight shoe, 220gr in weight, with 6mm drop. Intended for dynamic and agile training and for competition, maximum 21km. The adaptability of asphalt runners accustomed to more comfortable and responsive cushioning compounds may take a bit of getting used to in shoes with somewhat hard cushioning in the metatarsal area. Suitable for runners with good running technique and for series training sessions, or rhythms below 4.30 / km where the damping has worked better.