Main Features:


A classic training shoe comes to the market with important new features both aesthetically and in terms of performance and, above all, very well known by most runners.


First of all, we can observe an Upper Formfit also revolutionized compared to its predecessor, the Saucony Ride 14. A renewed upper with Mesh fabric to give the runner a second skin sensation. In addition, we can see how the shoes incorporate a double pin in the upper lacing area to provide both a greater fixation of the foot and a firmer position during the stride to give a sense of security and comfort.


Secondly, we can find some new features in the midsole of the Ride 15. In this case, the brand bets for 8mm drop to provide more cushioning to our runner and an extra protection to our shoe.


Finally, Saucony relies on the cushioning provided by the PWRRUN technology which is still present in our shoe. At the same time, the brand adds a layer of PWRRUN+ at the base of the insole to give us a greater sense of stability and security.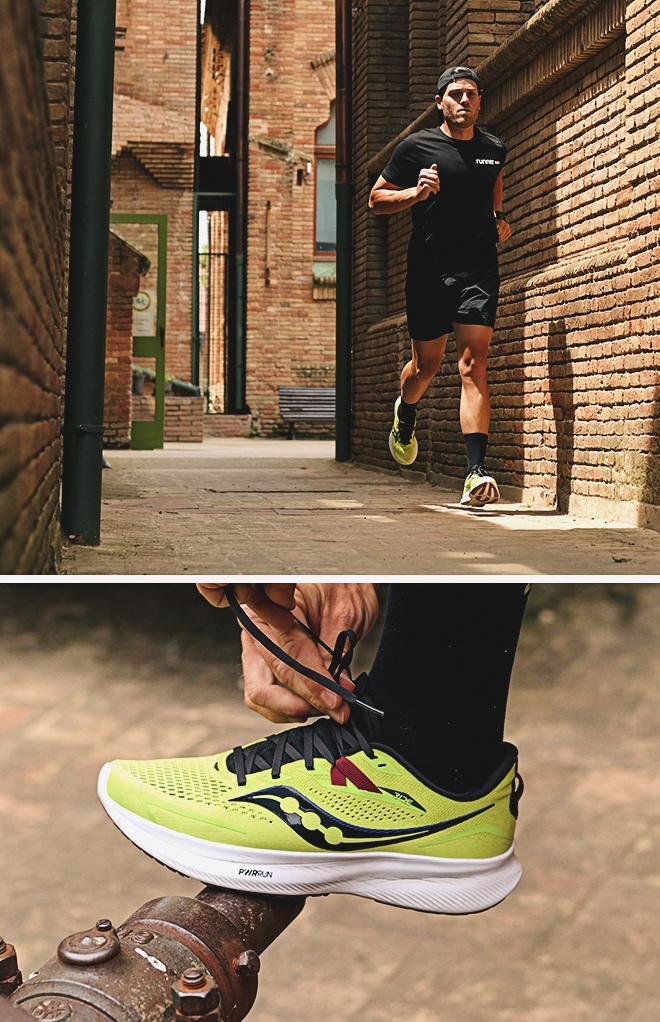 Distance and type of terrain:


Saucony presents us a neutral shoe with more cushioning and lightness for all kind of distances ( 10km up to 42km) with paces between 4.30min/km to 5.30min/km or higher. The increased drop and the incorporation of the PwrRun+ in the insole offer us an optimal comfort feeling and a better durability of the shoe for running on asphalt in our training sessions.


Type of runner:


The Ride 15 is a shoe that does not distinguish between men and women, virtually any of us could use the Saucony in our respective workouts with no margin for error. Designed for runners of low to medium weight (65kg-80kg) who are looking for an allied shoe for their daily training.


Saucony Ride 15 Test:


After testing the shoes I found a good traction due to the change of pattern in the outsole and above all a high comfort feeling during a run on asphalt. I have been very surprised by the lightness of this Ride 15 and I think it is the ideal shoe to prepare my goal of Long Distance Triathlon.


SAUCONY RIDE 15 SUMMARY


Weight (H-M): 249gr - 221gr


Gender: Men and women


Drop: 8mm


Cushioning: High


Gait: Neutral


Usage: Training


Surface: Asphalt


Pace: 4.30-5.30min/km


Distance: 10km to 42km