My name is Anna Olivares, a pharmacist dedicated to clinical trials. Like some of you, I have been an amateur long-distance trail runner for a few years now. Last October 2nd I was lucky enough to participate in the Salomon Ultrapirineu 100K. Mountain race with 100km and 6200 meters of positive elevation gain that runs through the Parc del Cadí-Moixeró. I didn´t have it in my calendar and I didn´t plan to do my first 100K this year, but thanks to Runnerinn I was lucky enough to be in the mythical Plaça Porxada sharing the starting line with international elite runners.
Chronicle


1 minute to the start, the lights go out and we turn on the headlamps, hugs, the last mohican sounding, nerves and respect for the challenge ahead. Countdown and the start of one of the most emblematic trailrunning races.


This edition had a similar route to the 2019 edition, in which I retired at km 72.


This year, the first 6 km were by forest track, keeping a steady pace I arrived Rebost (AV1) a few minutes before the forecast I had planned, I didn't need anything, so I passed by and faced one of the most emblematic and hardest climbs of the race towards the Niu de l'Àliga, the highest point of the race. A spectacular atmosphere makes me cut 15 minutes off my forecast, a plus of energy and motivation to reach Serrat de les Esposes (Km 31), where I was going to meet my partner who was assisting me. I felt up to it and with strength, until Gósol (km 61) I wasn't going to have the next assistance, so I put on the music and my strategy was to make short goals from refreshment post to refreshment post.


From Cortals (km 36) to Prat d'Aguiló (km 48) was a tough stretch, and when I got to Prat d'Aguiló I knew that I only had to climb up to the Pas de Gosolans and then a spectacular descent to Gósol. My motivation? to see my assistance and eat well.


I was cutting minutes off my forecast, so I reached Km 61 in less than 10h. The atmosphere in Gósol was specular, I arrived tired but the desire to continue running was still 100%. I felt good, with strength, I knew that the race "started" from that point, so I ate as planned with my nutritionist, change of socks, change of "Zip" bags of food, soft flasks full and continue on the way to Estassen. The next point where I would have assistance would be at Vents del Cadi (km 83).


A somewhat technical descent from Estassen to Gresolet (km 74), my weak point. I decided to run with poles and it was the right decision as they helped me a lot in that stretch, even downhill.


After Gresolet I headed, tired, towards the Coll de la Bauma, I knew that after that there was a track and path without much gradient that would take me to Vents del Cadí (Km 84). I arrive at Vents with strength, knowing that I only had 16 km left to get to Bagà, I start to believe that this year I was going to cross that finish line. Last refreshments! I leave quickly, I say goodbye to my partner who I would not see until the finish line, I turn on the front and start the last climb, empredats towards Sant Jordi. Luckily I have a friend waiting for me who accompanies me and makes me do the last stretch faster than planned.


In the last 2 km, unlike the 2019 edition, we pass through via Nicolau, we start to see the lights of Bagà, we hear the speaker and an indescribable feeling invades me, there were still people in the square, applause and ... FINISHER!!! 17:23h, 19th overall female. I couldn't be happier.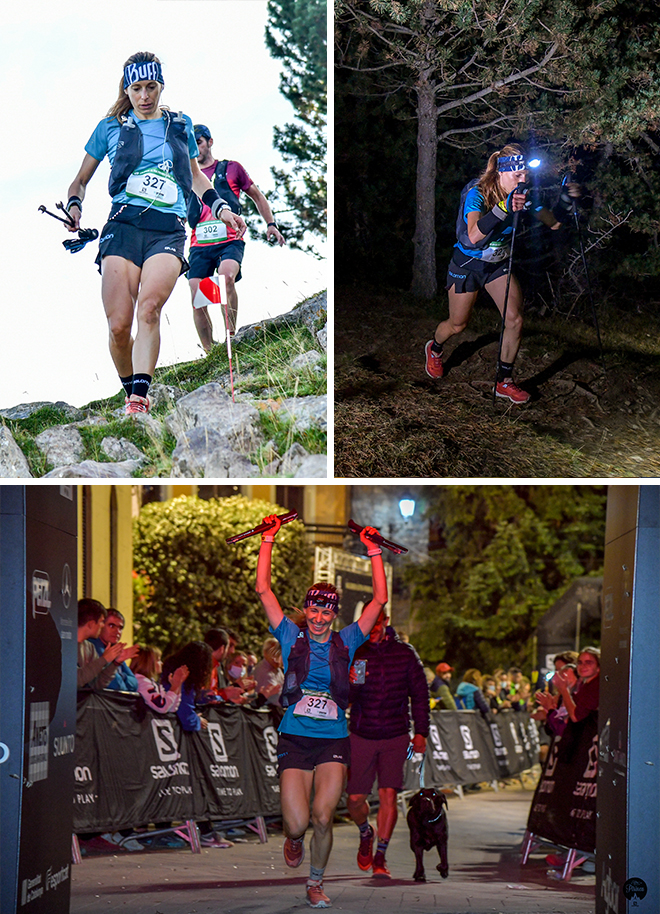 Material


Salomon Ultra Glide


For the SUP21, I chose the new Salomon Ultra Glide shoes.


A light, comfortable, cushioned, stable shoe, with contagrip sole. Perfect shoe for long distance running and on a variety of surfaces as you find in the Salomon Ultra Glide: wet, dry or rocky terrain, not too technical. The upper is quick drying and breathable, with the SensiFitTM and Quicklace system the foot adapts to the shoe providing control and precision in the stride. I had no heavy feeling during the race, no chafing or sores which I appreciated at the end of the 100 km.


I have no doubt that this is a great discovery for those long runs or long distance races.


Suunto 9 Peak


Suunto and Runnerinn gave me the opportunity to test the new Suunto 9 Peak to help me face my challenge.


More than giving you specifications, which you can find on the website, I would like to give you my opinion or point of view. It is a watch that has pleasantly surprised me: firstly because of its lightness and size, my wrist is small, it is not too big and weighs very little.


But what surprised me the most is the battery life, for the UltraPirineu I set the GPS mode to 25h and deactivated the mobile notifications as a precaution, but it has up to 120h in training mode with the GPS activated and I had no surprises during the race. I was 17h and still had more than 40% battery left.


In terms of data, the 9 Peak is very visual and intuitive, and the fact that it is touch-sensitive makes it more agile when changing screens. For example, I usually have distance, time and positive elevation gain data on the same screen.


I was surprised by the accuracy of kms and elevation gain compared to other runners, in this edition of the ultrapirineu, according to the organization, were 100 kms with 6200m of positive elevation gain and I arrived at the finish line with 99.89 kms. The elevation gain was also very similar.


Although I have been able to test it mostly in trailrunning, it was not at all complicated to program an interval training in road or trail running. You can program it easily from the watch without the need for the mobile app.


Apart from being a GPS watch that gives you a thousand data in the sport you choose, it is a smartwatch, touch, colour screen, very visual, the notifications on the screen look great and you have music control. In short, Suunto has created a watch both to wear on a daily basis and to practice your favourite sport.


Thank you RunnerInn for this opportunity and for making it possible!